Safety Guidelines You Should Know About Car Spray Painting
Spray painting is a common method for painting cars. As it is a fairly simple and cheaper alternative, a lot of car owners opt for car spray painting on their own. The process requires minimal tools, and the amount of wastage is lesser compared to other types of vehicle painting. Car spray painting also renders a better look and finish to the car. However, there are some tips to be kept in mind while doing a car spray painting.
1. Ventilation – Any kind of paint is a chemical and there could be hazardous components in it. As car spray painting essentially involves spraying, a lot of these particles are released into the atmosphere immediately. Even after the job is completed, these vapours and fumes can linger around for a few more days. Inhaling these can lead to health concerns. Though one cannot dismiss the possibility of getting exposed to these particles, one could minimise its impact by opting for a large, ventilated space to do it by themselves or when hiring a car spray painter. If you are in a garage or a car station when doing the spray painting, keep the doors and windows open to maximise the air flow.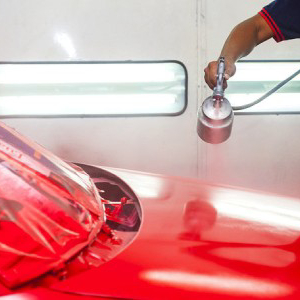 2. Respirator – Prevention is better than cure, and hence wear all the necessary safety gears and especially air-supplied respiration. These items will filter the air and free it from all harmful chemicals and particles before you breathe it in.
3. Covering – Paints can have a range of effects on skin such as burnings and lacerations. Hence, it is best to keep minimal contact and wear protective gear such as a safety suit on your body to avoid any paint spillage or leakage getting in touch with your body.
4. Clean up – It is inevitable that some amount of paint might spill or leak when you are in the process of car spray painting. It is advisable to clear up this as soon as possible rather than leaving it for the end. Quick cleaning will leave a clean workstation and will avoid any body contact with the chemicals.
5. MSDS – The paint's material safety data sheet is a document that contains a list of all the chemicals and toxins that are a part of the paint. This information is useful for checking for any allergies to particular elements and will also help one in being prepared for a contingency in case there is a mishap such as a spillage or exposure.
Affordable Car Spray Painters in Melbourne
Derrimut Smash Repairs is a recognised car service centre in Melbourne. We offer an array of services such as car smash repairs, fleet smash repairs, panel beating services, paintless dent removal, insurance claims, car spray painting, car restoration, towing services and more. We are led by a team of experienced automobile enthusiasts who come with peerless expertise in handling vehicles and attending to all automobile services that our customers may require. With over five decades of being the pioneer in the automobile service industry, Derrimut Smash Repairs is equipped with state-of-the-art technology, modern equipment, and exceptional skill sets that enable us to deliver services par international standards.
Derrimut Smash Repairs is widely known across Melbourne for our affordable car spray painting services. We offer quick, neat, and seamless car painting works through our car spray painters. We onboard cars of all brands and makes and is prompt about our delivery timelines. Customer satisfaction is paramount for us, so we offer a lifetime guarantee on all our spray painting works and attend to minor repair works on the same day. Call us for quality car spray painting services.